THE BOYS FROM BUD N' MARY'S CAUGHT THEIR FIRST DAYTIME SWORDFISH IN JANUARY OF 2003.
BY 2006 WE STARTED CATCHING IMPRESSIVE NUMBERS
The Stanczyks
Islamorada offers the finest and most consistent swordfishing charters anywhere. Capt Nick Stanczyk and Capt. Scott Stanczyk of Bud N' Mary's Marina are two of the pioneers of the daytime swordfishing technique. We have worked through the years to refine our methods to maximize the chance of hooking up with a swordfish.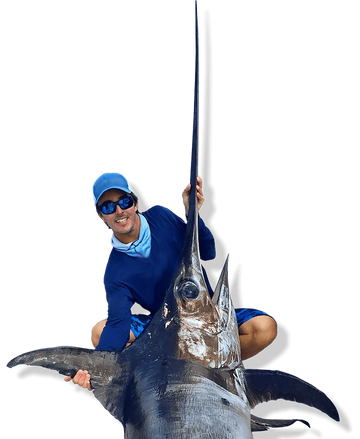 Islamorada Swordfishing
Islamorada offers the finest and most consistent swordfishing charters in the world. The Stanczyk Family started daytime swordfishing in the USA starting back in January 2003 and by 2006 we were catching impressive numbers . We have worked through the years to refine our methods to maximize the chance of hooking up with swordfish.
BOOK NOW
The Stanczyk family is credited with pioneering Daytime Swordfishing in the United States. Captains Scott and Richard Stanczyk, along with Capt. Vic Gaspeny, caught their first ever daytime swordfish in January 2003. In 2006 we started catching impressive numbers and had the confidence to take clients out on charters. We don't catch them every trip, but your chance of success is as high as it gets when fishing with us.
What To Expect
The swordfish grounds are anywhere from 25-45 miles from Islamorada. Being that distance we only offer FULL DAY charters when targeting swordfish. The typical run to the swordfish grounds is an hour to an hour and a half. We fish in 1400-1900′ of water along the continental shelf. We use both electric and conventional reels, so it's completely up to you on what sort of tackle we use that day. We fish 1 – 2 rods down near the bottom while drifting in the Gulf Stream. We fish between 6-12 lbs of lead on the rig depending on how much current we have that day. A lot of times we have a flat line out with a smaller bait and certain times of year (late spring through early fall) mahi are a common bycatch while waiting for a swordfish bite. Most of the time when a swordfish strikes the bait the rod tip only bounces an inch! There is a lot of line out with a very long leader, so seeing the initial bite and reacting to it is very important! We may take the bait away from the fish to make him more aggressive or we may drop it back to try to feed him. Hooking and landing a swordfish can be tricky!
The Catch
There is no indication the size of the fish when he hits the bait. It may be 50 lbs or it may be 500 lbs! A lot of the swordfish swim to the surface when hooked, and once they see the daylight the fight begins! The fight can last 15 minutes or go on for hours! If the fish is of legal size we can keep it for you to eat, or you can release it. We encourage tag and release on small fish, and on any fish if we already have one in the boat for dinner. Swordfish average 50-150 lbs, but you never know when you will catch that giant 400lber!
The legal size to keep a swordfish is 47'' Lower Jaw Fork Length. The bag limit is 1 per person up to 6 per boat, but we have a gentleman's rule of never keeping more than 2 swordfish per trip (If we are that lucky!). Remember, we are happy if we catch 1 on a trip. We encourage catch and release on small legal size fish, but if it's the first fish of the day we have no problem harvesting it since it may be the only fish we get all day. If we are fortunate and have one swordfish in the box we can be a little more picky with regards to keeping fish of a certain size.
BOOK NOW
Other fish we catch
The more time you dedicate to swordfishing the better your shot of success. However, swordfishing can be boring and we do catch other species of fish while fishing offshore. Spring through early fall we catch mahi coming and going to the swordfish grounds, even while we are swordfishing. Blackfin tuna can also be caught on the humps that time of year on both artificial and live bait (if available). Depending where we swordfish, sometimes we pass right near the hump and can have a little action on the way in or out. We also love deep dropping for tilefish, grouper, barrelfish, queen snapper, and rosefish based on the time of year. We will "deep drop" bottom fish anywhere from 500-1000' of water! The good news is most of these fish are great eating, but remember there are seasonal closures on certain species.
Swordfishing itself has very little bycatch down deep, occasionally we get a pomfret, oilfish, alfonsino, and shark. We do catch some fish like mahi on a flat line.